CALL OF ABRAHAM'S KIN
by Barbara Hantman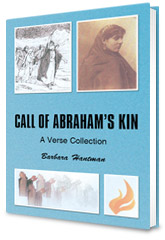 Author-poet Barbara Hantman has gathered together an unforgettable oeuvre that is rooted in inspiration derived from the Hebrew calendar holiday cycle, biblical, ancient and contemporary personages steeped in devotion, comforts of prayer, covenant of love, and the classroom of history that alternately laments, admonishes, appreciates and venerates.
Her sixth book of verse, CALL OF ABRAHAM'S KIN is divided into five chapters that capture facets of Jewish life: "Holy Days," "Patriarchs & Matriarchs," "Tefillah," "O Israel, Rejoice!" and "History As Cheder." Hebrew and Spanish are represented with a smattering of bilingual poems.
An insightful, informed and constantly interesting book, CALL OF ABRAHAM'S KIN calls out to all who are open to contemporary, amply revealing poet-response to sublime pathos and the beautiful light and dark word paintings of a discerning naturalist painter with words. It a collection that will strike you as connected to the zimmerot (songs) and the melodic qualities of the klezmer music of Eastern European Jewry.
The best of teachers instruct by their example, and Hantman's poems are penned with the wise sense of awareness known in Yiddish as "sachel." Each poetic piece has the ring of an authentic yearning for the cultural survival of one's people.